The first ALPHA MODEL model competition in 2023
Let the models embellish yourworld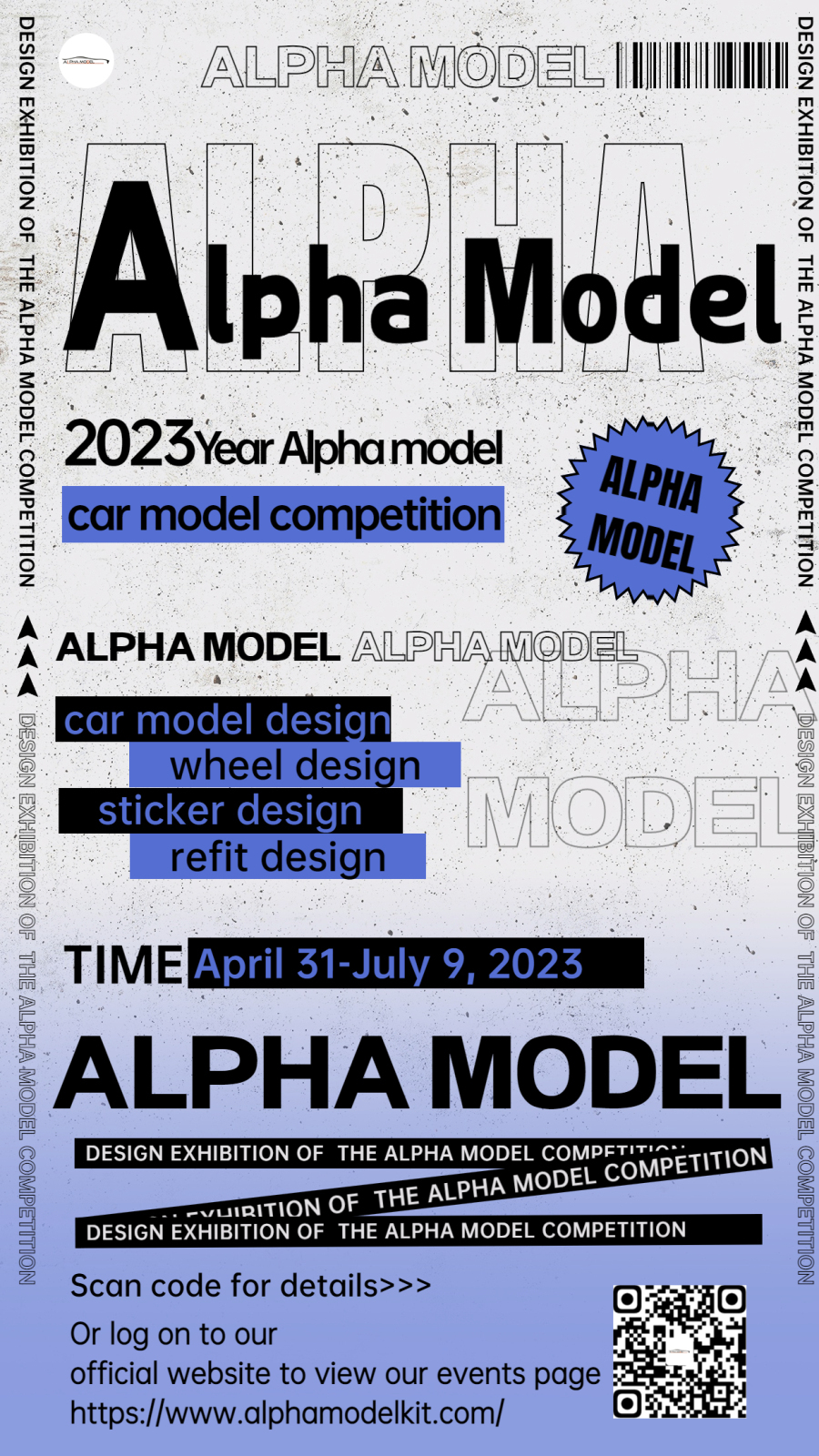 ALPHA MODEL Model Contest
✨【ALPHA MODEL kits】Enjoy the cool experience of freely matching scenes!
💡Make an ALPHA MODEL vehicle model to bring you a unique visual experience. Moreover you can freely match the scene and show your creativity!
💰Not only that but there is also a big prize waiting for you! Invite all kinds of masters to show their works on various social platforms netizens participate in scoring, and finally the one with the most likes wins.
🎉Want to be the luckiest "big winner"? What are you waiting for? Come and join the ranks of ALPHA MODEL vehicle models and show your talent!
📢【Purpose of the Contest】
🌟Inclusiveness: Let more people participate in the model exchange regardless of old and new model players participate in the competition without pressure, so that more people can benefit from it.
🌟No difference: Discuss 1/24 model art, regardless of venue or crowd.
👍🏻Tolerance and non-discrimination allow more people to participate making it possible to have diverse views and learn from each other.
🏎️ "Alpha Model" car model making competition is here!
🏆 Here is the big news to share today! After five years of hard work and support from users Alpha Model finally ushered in the first global car model making competition! We hope to express our gratitude to fans through this competition and provide a stage for fans to show their production results.
🤝 Alpha Model looks forward to sharing the joy of loving car models with you, never miss this opportunity!
💡 Break free and challenge yourself! List of entry
requirements:
1️⃣ Entries: Alpha Model products must be used.
2️⃣ Work display: Show your work through pictures and videos the content is the finished vehicle and the scene designed by yourself!
3️⃣ Ranking competition: Publish your work on the Alpha Model official group, and decide the ranking of the competition through online voting!
🏆 Challenge yourself and show your stunts!
🎁 Three prizes are waiting for you! 🎉
🏆 First Prize: Choose one product from the AM series! 👀 The products of the AM series are the favorites of old players. Now, just by participating in our event, you have a chance to win such a high-end prize!
🥈 2nd prize: HD modification kit! 🚗 HD tuning kit can give your car a new lease of life. In this complex world we all need some personal presence to make our lives interesting.
🥉 Third prize: a set of water stickers and PE pieces! 💧 Water stickers and PE parts are must-haves for modern accessories lovers they can add endless fashion sense to our car. Let your car stand out among many car friends and become a unique existence!
🎖️ Each winning friend will also get an exclusive medal! 👑 This medal is our recognition and encouragement to you, and a testimony of your hard work and participation. At the same time, it also allows you to show off your award-winning moment in the circle of friends and show off your luck.
🎊 Don't miss this opportunity join the event now! The prizes are full of positive energy making you confident and motivated to face the next stage of your life!
🎉Activity time: May-July! Alpha Model heard that something is going to happen! In the first stage from May to June you must do it yourself, and make your favorite model! After the production is completed you need to take nine creative photos and a 50-second cool video to show your work! 📷🎥
🔥The second phase is coming in the first week of July! Contestants can "canvass"! 🙌Publish your work on various social platforms and let your friends vote for you! The Alpha Model official will give the final score based on the like data of each social platform don't be shy show yourself! 😎
🎖️Finally Alpha Model announces the final winners! 🏆In addition to having the highest number of likes you must also have excellent performance in creativity skills taste etc. in order to have the final right to win! All contestants let's witness the birth of a new model star! 👑
📝 To sign up for the competition just pre-register online! 🏆
▪️In principle only online registration is accepted for the qualifications, and the channel has been opened today until 24:00 on May 16, 2023.
▪️Welcome to join the discussion group there will be model-making masters from all over the world to provide you with full guidance let's show your skills together! 🤩
🎉🎉 Sign up online here! 🎉🎉
If you want to participate in our activities, you can click the button above now, fill out the registration form, and you can easily complete the registration!
You can also use your mobile phone to scan the QR code below👇👇, and complete the registration conveniently and quickly!
Just a few simple steps, you can participate in our wonderful activities! ✨✨
Your cart is currently empty.